I am still shocked but this happened yesterday.
For a month I used the F5 and a Nel Sharpshooter coil and I was impressed.
For the month after I tried 5 other coils with varying kinds of success but none of them came close to what the Nel was doing in my devil dirt.
It was quieter, more stable, deeper with better accuracy and normal behavior I only saw when I lived in Kansas with almost perfect dirt.
Yesterday I put the Nel back on, went across the street to hunt a neighbor's lawn I am in the process of cleaning up but targets are getting sparse.
I found more coins, many of them masked and expertly hidden like ninjas.
I walked back across the street to go back home when I was done with that lawn but I decided to just swing over my lawn for a minute or two just for laughs and giggles.
I have hunted this lawn for years, over 100 times with every detector, coil and setting combination I have or could think of.
Except for iron the good signals are so few and far between it is almost laughable to even attempt to hunt here anymore but fortune favors the bold and I have it a shot, anyway.
At the very least my lawn is now a test garden but one with no good targets that I know of buried.
I walked around a few minutes, found nothing, I was heading back to my porch to go inside my house and gosh darn it if I didn't get a good signal.
It was way modulated, quiet and sounded far away but a high tone in D4 and numbers in the high 80's.
Everything up-averages around here the deeper you go so normal, it stayed in a short number range from more than direction.
I stuck my digger in the dirt and lifted the soil a bit which is a good way to break the halo/matrix if this was actually iron wrapping around...a very handy thing I learned to combat all the extra iron I have around here.
Even just my red clay soil can do that by itself sometimes but actual iron nails and things do it all the time.
I rescanned and the signal was still there.
I check for depth, the F5 says 6", the deepest good signal target I have had for the last month while I was trying all those other coils.
I dug down still expecting nothing except junk but at that 6" level, actually measured at 7" on my pinpointer, a small green coin pops up.
I was shocked!
A 1920 beautiful green wheat.
That depth here is like me finding a good coin at 10-12" in great soil with my F70.
It was solid, it was stable, it behaved normally, (for here), it was pretty much at the depth the F5 said it was if not a bit deeper and that kind of thing just doesn't happen around here on something this deep.
Jumpy maybe, if my detectors even can notice this kind of masked target, but not almost perfectly normal like this.
Not on my F70, not even on my Nox with any of the coils or the million settings I have tried on both of them.
The last time I did this was using my F70 on a larger sterling Masonic coin I found in some extremely rare nice black fill dirt also at seven inches with very normal, solid Kansas type behavior and that was about 4 years ago.
I bought this thing hoping it would be more stable than my F70, unmasked as good or better than that one or my Nox, get deeper than anything else I have used around here so far and with normal behavior I haven't seen since I lived out west in Kansas.
All a wish list, I never thought I would get it all and I happily would have settled for one or two of those things but I think I really lucked out...I think I got it all.
This detector with this coil is amazing, shocking, I might even say magical in this place in my strange dirt.
And it cost less than half of what I paid for the Nox even with that Nel coil so...thrilled.
I have hunted here for seven years with all kinds of detectors and I have never seen anything exactly like this except that one time.
Only an old, worn, 1920 green wheat cent but what it represents is huge, especially for future hunts in my area in my sites in my challenging southern soil.
I wonder how this thing will manage to shock me next?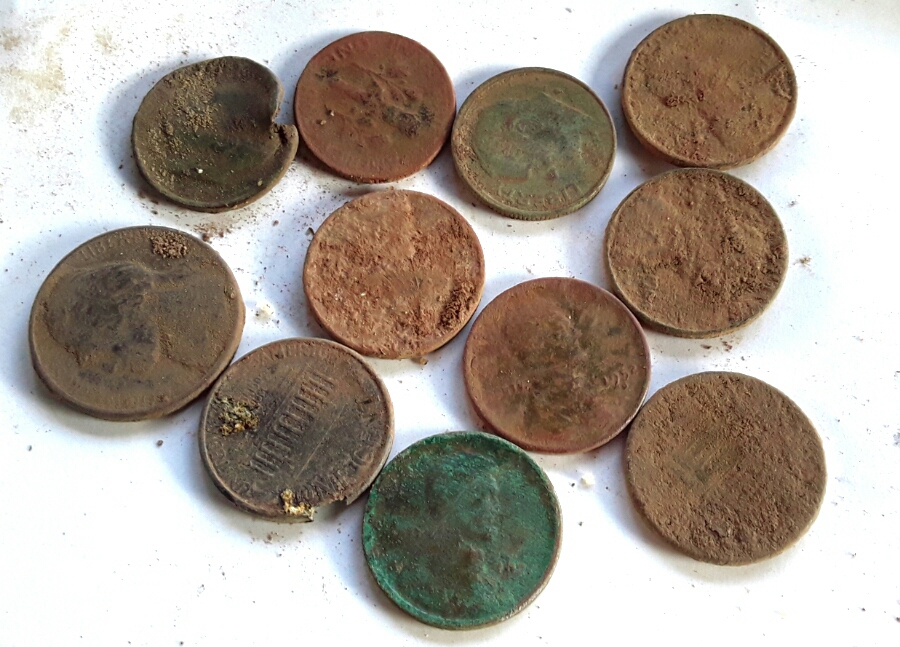 Last edited: