The first trommel I am posting a review on is the Hecklar Fabrication 2410 V. Right off the bat I will say that these trommels are well built for heavy duty commercial use. I used the electric motor version and powered it with a generator. I also used a custom built Gold Claimer hopper/feeder to feed the hopper on the Hecklar. The V version gives you a vibrating hopper and pre wash system that I found to give superior gold recovery. The Gold Claimer feeding system was used to keep pay gravel loading and rocks away from the Hecklar loader and give it a steady feed rate. When you load heavy material over a trommel there is always a risk to the unit and the separate hopper, while not required, worked well together.
I found that the Grizzly bars on the Gold Claimer hopper needed to be beefed up as one was broken with a large rock pretty early on. A Kabota skid steer was used for pay gravel feeding and tailings removal. The Gold Claimer had a conveyor that I used to feed the gravel into the Hecklar hopper where it was pre washed under an adjustable vibrating system. The conveyor had an adjustable feed rate as well. Once washed, the pay gravel entered the trommel barrel and the fine gravels entered the sluice system. The unit is set up on an off road trailer for easy portability and set up.
I give this set up a 9 out of 10 rating. The trommel is rated for 30 tons of gravel an hour. I was only able to run about 60% of this rating at best. That is not unusual because in my experience the practical run rate for washplants is usually 50% - 70% of the stated rating. There is no easy cleanout if the material jams up between the vibrating hopper and trommel barrel. You'll need to climb up on a wet and slippery hopper with a shovel and rockbar if you get the inevitable jam up of gravel. Also, there is a metal sleeve where another rubber sleeve connects the trommel fines into the sluice box. It is a bit short in my opinion and can slide apart unless fastened with a chain or the sluice propped up with timber or rock. It is supposed to be held together with a big hose clamp but it won't do the job. Just a minor thing but still aggravating.
The Hecklar 2410V is around $30K plus options. It is very well built and made in Rosevill, Ca. The custom built Gold Claimer hopper feeder pictured was priced around $10K. It is a great unit for exploration or small scale mining but will not process enough material for larger scale operations where you would want to run 2 - 3 times the material minimum. The pictures posted are from a claim in n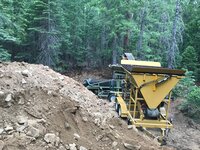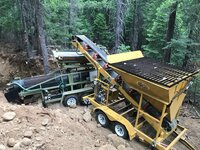 orthern California.