Pinpoint trace..One of the greatest features of the ctx 3030.
However, I have found something similar to tracing a target on the etrac.
Can it be done or something like it on the etrac...works for me !
I am not going into the details but instead will add a link at the bottom of the post to use as a reference to etrac tracing.
First find a target...look for a deeper coin target and pinpoint it...place a marker on the exact place you pinpointed it at.
The trace you end up with will be a vertical line as shown in the ctx pic below...there will be a cluster or box where the target id is.
Simply move the arrow keys while still in edit, after you have traced the target, to the center of the cluster or box for a targets id...later you can just visually determine
if the target is good or bad....targets like a nail or small iron will splatter dots across the screen in no pattern at all, what we want is
a pattern or box if the target is a shallow coin, to appear on the screen. Which will take about 10 or more passes across the target.
just as if you are pinpointing a target ..wiggle the coil over the spot you marked and then turn 90 degrees and do it again.
The deeper the coin, the longer the vertical trail will be.
Now lets see a pic of the ctx pinpoint trace....The etrac trace will look similar to this pic or a box or rectanuglar shape for shallow coins without color or a target circle spot.
If you haven't seen a video on ctx 3030 pinpoint trace....google it and watch a few.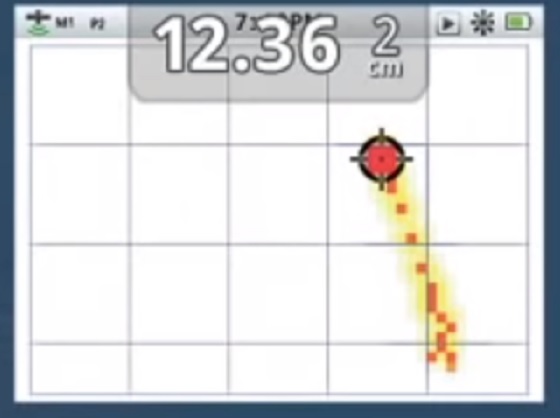 The instructions say to use the middle box in edit but I find the small box to be better at making a trace of the target for me...
Here is the link.
etrac trace
HH
ELMY