Etrac ....A way to successfully find the coins you seek.
New users, whether it is a brand new etrac or a used etrac, are often overwhelmed at running the etrac the first 20 times out.
The minelab preset programs for coins has so many targets that your head will be spinning at all the signals the etrac produces.
After a few hunts the user becomes frustrated and puts the etrac down for another detector...That would be a big mistake.
It is because it has too many targets opened up in the pattern that preset minelab coins uses. For instance,
a new user usually wants to go out and find a silver coin. The recommended method to do that is using minelabs preset coin pattern.
"Find silver right out of the box" entices us all but consider this...every coin in the pattern on the screen of the etrac has a
certain amount of trash that will sound off with any detector. Now if you put all the coins in a pattern to sound off, you also add all
the accepted trash associated with each coin into the accepted detected coin target. Let's take nickels for example. Pull tabs, large
can slaw even some shotgun shells fall into the nickel window. Now add indian head pennies and you get brass rivets...lead...copper wire...
and many more actually too many to mention. Now add in wheat cents and the trash that will be detected with their target id...now add dimes
and the trash associated with them...add quarters and the trash...add halves and the trash...add dollars and the trash....??????????
No wonder people drop the etrac and go for a simple beep and dig detector. The minelab coins program, even a mild coin program, can drive you nuts!
The next step most take is to go for help on the internet asking for the best coin hunting program for the etrac. Eventually they end up with
andy s coin pattern, which is one of the best....for experienced users.... Then all of a sudden they start digging a lot of old rusty nails. Been there, done that!
Now let us talk about coins and what most want to find.....SILVER.....
Load up the minelabs coins program.
The easiest way is to disc out everything and target only the silver numbers....well yes and no as some silver will fall into the wheat cent category.
Worn Mercury dimes, worn barber dimes, and worn seated dimes will sometimes fall into the wheat cent window. Now we are getting somewhere.
Andy s pattern uses a fe disc down to 27 and I have dug nails at fe 24. So what I would suggest is a bottom number fe set at 22-23.
Now for the co numbers.
To accept wheat cents that can also include the above mentioned silver, we need a disc pattern at co 41 to 49 as iron wrap around and other junk
will hit above 49 co, mainly the 50 co number. So lets take a co of 41 to 49 and fe 1 to 22 and use that pattern as a starting coin pattern.
Now set volume gain to 28 in audio settings and variability to 28 also and trash density high and ground to difficult. BINGO...you start finding coins
and also some silver coins! Now when we get used to the way the etrac sounds on different coins and get used to running it, we can add in the Indian
head penny window and later the nickel window or any other coin window we want to add to our pattern...remembering that each coin window added will bring along it's
trash items with it.You will notice that some of these coin windows come with just too much trash and may be used in a separate pattern by themselves or
a specific coin pattern or with another coin you seek.The more you add the more trash is detected. You will find a pattern that works really good for your
personal hunting preference...I personally like the wheat cent and silver pattern we made above when hunting silver coins....anyway...there you have it...for what it's worth and I
hope this has helped anyone who struggles using the etrac. Coin id numbers for the etrac are everywhere on the internet and usually most are quite accurate for a base pattern
to start with....so happy hunting !!!!! Below is a pic of a pattern created above targeting most found silver coins.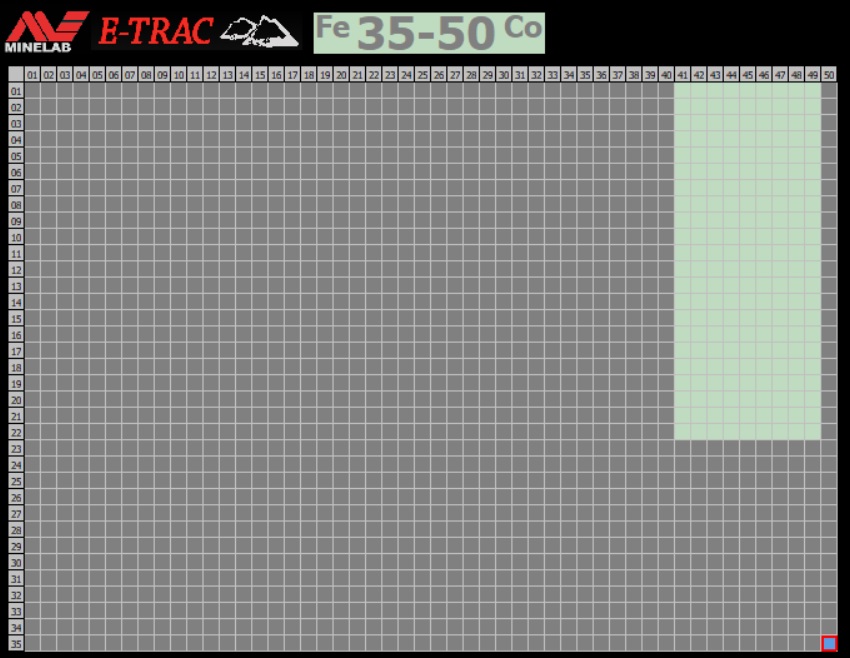 EXAMPLE
Taken from freindly metal detecting forum..... not my post.....
I needed to make my time count I loaded up the tightest restrictive pattern I had. Nothing but a small open area in the high conductive coin area and a very small slit in the nickle area.
I also changed from Auto + 3 to Manual 29.
Right off the bat I got a very iffy broken tone but what I noticed was the FE numbers all stayed low (08 to 16) and the CO was up in the 39 to 44 area. I recovered a very deep wheat. Not
more than 2' and another. Same thing in that it sounded like !!!! but the FE remains low and the CO up in the coin range. Bang, another very deep wheat. Next was broken as well with FE
numbers in the below 18 range but the CO was a 45 now and then and sure enough a deep merc. I told John and he set his E-Trac the same and also started pulling deep wheat. In a very
short time and had pulled 5 wheats and a merc all older than usual. Most in the 20's and john pulled a few nickles and I pulled a few as well.
Explains my example of digging the co of 45-46-47......45-possible silver...46-probably silver....47-I will eat it if it ain't silver (QUOTE)
ELMY
Last edited: