Hunted hard today got a few goodies. Nary a button one! Included pics of what a person would encounter on a dig.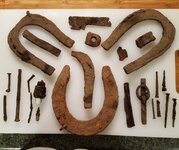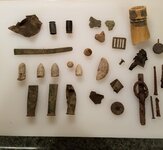 Iron
I think that piece by the bottleneck is a pinfire 16 GA shotgun cap. Yeah, ole' CD finds whole bottles, I find pieces!
I find Guvmt. muleshoes 2 to 1 on horseshoes. Got 3- 5 gal. buckets of shoes! Sorry, some of the iron is in both pics.
HH okie